S.B. Fuller taught economic empowerment and entrepreneurship to African Americans in the height of segregation. A lot can be learned from his life experiences, he believed in the concept of African Americans establishing exceptional businesses that would appeal to the masses. Mr. Fuller stated that a customer doesn't care what color a cow is as long as it can get milk.
Mr. Fuller also lived by the business axiom "Find a need and fill it". Mr. Fuller brought a majority company named Boyer that sold soap during the height of segregation. When this fact was found out the company was boycotted which led to Mr. Fuller filing bankruptcy. We have come a long way from the Civil rights era of the 1960s.
Self-sufficiency is still important concept for black empowerment. When Mr. Fuller went on to establish Fuller Products one of his top salesman Joe's Dudley was able to return a favor to Mr. S.B. Fuller in his later years. S.B. Fuller would run into problem and Mr. Fuller's meter Joe Dudley, Sr. would go on to revive the company.
African American successful businessman and businesswoman mentoring others coming down the line is an important concept in black economic empowerment. In my twenties I was able to meet Mr. Joe l. Dudley founder of Dudley product whose sales has topped 30 million dollars, and he imparted valuable information just as S.B. Fuller imparted to him during his early years.
One quote he shared with me was "In our space, in our time we can and must make a difference". At the time I was involved in a barber shop franchise named "The Haircut Barber Shop Franchise "which grew from one store to several locations which is proof positive that business mentoring works in the African American Community.
When the Montgomery bus boycott occurred S. B. Fuller encouraged the African American business community to buy the company. Many years later Reginald F. Lewis Billionaire TLC would recommend that African Americans buy existing companies with good management because blood (cash) was already flowing through the company and it had a history of great management.
In 1992, Forbes listed Lewis among the 400 richest Americans, with a net worth estimated at 400 million. He was the first African American to build a billion dollar company, Beatrice Foods. He was also the richest African-American man in the 1980s.
Many years later I find myself at the helm of one of the fastest growing regional chamber of commerce in New York State. Mentoring mattered at the height of segregation and mentoring matters today. Mentoring is the gift that keeps giving! The U.S. Black Chamber is also doing a terrific job of strengthening businesses and its member organizations throughout the U.S. via its USBC School of Chamber & Business Management.
Mr. S. B. Fuller's company at its height made 18 million dollars and is a testament to the tenacity that African American possessed during some of the most perilous times in America. President Calvin Coolidge most famous statement that "The business of America is Business" still rings true for all segments of society in America and it should be encouraged by its government and impeded upon only when circumstances require government intervention.
Phil Andrews is the President of the Long Island African American Chamber of Commerce, Inc. located online at
http://www.liaacc.org
Follow our chamber on Twitter:
www.twitter.com/LIAfricanAmerCh
This article first officially appeared on Huffington Post at
http://www.huffingtonpost.com/phil-andrews...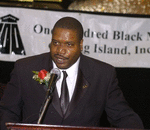 Posted By: phil andrews
Wednesday, May 4th 2016 at 9:51AM
You can also
click here to view all posts by this author...