There is so much controversy surrounding the recent tragedies in Haiti. There are people who feel we should be more worried about our own then those in other countries who need us in spirit, prayer, finances and health to come to their aide. How would you feel if you were visiting Haiti at the very moment when the world opened up and swallowed our loved ones without a moments notice. How would you feel if you were caught in the reckage, in the torment, or even in the pain? Whether you have family in Haiti or not this devastation should have hit you as hard as 911. You should have felt the cries for help, the need for medicine, the urgency in those buried alive. You should have shared the same tears, felt the same pain and expressed a deep emotion to help. Do not be so quick to say what did the government do for us when our homes flooded in Georgia? or where ever, our loved ones parished in Katrina, our people drowned in the Psunami. Be quick to send help in any situation because you dont know when or if it will ever happen to you. Embrace your Haitian Neighbors, whether you know them or not. Reach out to the 911 families, the psunami survivors, the Katrina victims and families. Let Haiti know you love them in some way. If you can do nothing else....PRAY! WHATS YOUR OPINION?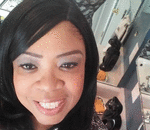 Posted By: Theresa Tipton
Tuesday, February 9th 2010 at 1:12AM
You can also
click here to view all posts by this author...