My personal reveiw of this movie is overwhelmingly great. I give it 5 stars. This movie sincerly ministered to women all over the world going through the emotional struggles of the cast members in this movie. I wont spoil it for those who have not seen it but i can truly say I went through 70% of this movies topics and it was truly a tear jerker! I can relate to every character in the movie in some way form or fashion. I think this is one of his best films. This film and Precious are movies to see.
Most people are starting to say negative things about Tyler Perry Films but I am here to say I appreciate his work because I sincerely see it as reality without having a reality series. He is bringing forth the truth in relationships today and why women stay in abusive relationships and put up with things they do because of the love they share between two.
Whether right or wrong, some may say he is Male Bashing, I feel he is bringing to the light the disrespect of women thats been there since the begining of time.
I am not nor will I ever say women are not guilty of the same wrong doing but the topics and situations brought out in this movie is REAL TALK!
I am a 21yr disabled veteran, I did a year in Kuwait (Jan 3, 03 - March 27, 04) under Bush War and POST TRAUMATIC STRESS DISORDER is real, it needs treatment and it is very uncontrollable. If your loved one is suffering from PTSD please by all means, You need to understand what it does to someone then find a way to seek help. CAN WE REALLY TALK?
Go see it today!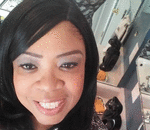 Posted By: Theresa Tipton
Wednesday, November 17th 2010 at 7:28PM
You can also
click here to view all posts by this author...