What gets me off?
It's not the touch of your hand
nor the taste of your kiss
Not the feel of your skin
Nor the love I insist.
It's not the beat of your heart
Nor the whisper in my ear
Not The smell of your skin
nor the things I expect to hear.
What gets me off?
Is not the feel of you deep
Nor the memories I keep
Not the kiss down my back
Nor the Roll in the Sack!
What gets me off?
If you only knew...
Not the special moments, the s*x, the love nor the things that we do!
What truly gets me off is simply listening to you!
Theresa Chatmon
11/17/2010
The moral to the poem is: sometimes we allow ourselves to overlook the important things that our partners or mates are truly trying to reach out and tell us. Try sitting back and listening you may discover things about your lover you have never known.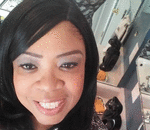 Posted By: Theresa Tipton
Wednesday, November 17th 2010 at 8:00PM
You can also
click here to view all posts by this author...