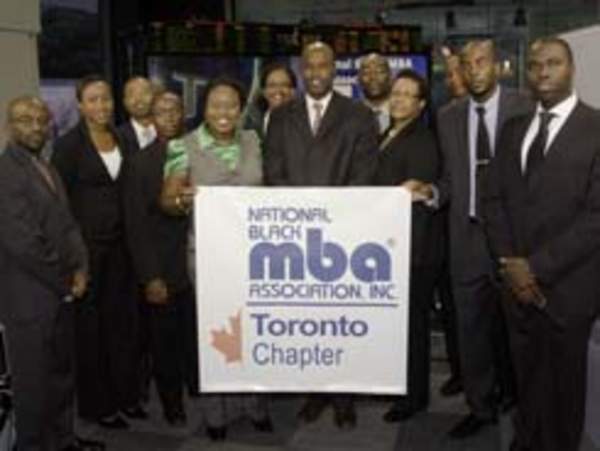 The National Black MBA Association (NBMBAA) has expanded internationally with the addition of an interim Toronto chapter.
The chapter capitalized on its growing momentum and country-wide interest by opening up the Toronto Stock Exchange at the TSX Broadcast Centre on Thursday, Aug. 21. Keith Wyche, NBMBAA board member and Pitney Bowes U.S. president of operations and Deepak Chopra, president of Pitney Bowes Canada, helped recognize the new chapter that day.
"It is important that Black business professionals connect across the diaspora, and our Toronto chapter is just the beginning of what we hope will be fruitful expansion across the globe," says NBMBAA president and CEO Barbara L. Thomas. "We are very pleased to have the Toronto chapter join our legion of black professionals, entrepreneurs and students."
"We want to increase the economic and intellectual wealth of Black Canadians," says Damon Knights, president of the Toronto chapter. "Studies show that there is a still a need to increase diversity in corporate Canada, and installing this chapter is way to ensure that our vision resonates with corporate and academic communities."
The new chapter already is garnering support from many of Canada's most notable corporations and business schools--Kevin Warren, CEO of Xerox Canada; John Peoples, president and general manager of SC Johnson Canada; and Ranji Persad, president of NCR Canada, will sit on a chapter advisory board, and the Schulich School of Business, the Rotman School of Management, the Richard Ivey School of Business and the Ted Rogers School of Management are all lending support.
Ivan Francis, vice president of strategy and marketing for the Toronto chapter, says its immediate efforts are focused on rollout of a NBMBAA Leaders of Tomorrow® program to help mentor and educate youth. He says the group also hopes to host the NBMBAA annual conference in the near future.
For more information on the chapter, visit
www.nbmbaa.ca
ABOUT THE NATIONAL BLACK MBA ASSOCIATION (NBMBAA)
Established in 1970, the National Black MBA Association (NBMBAA) is dedicated to creating partnerships that result in increased intellectual and economic wealth in the black community through its five channels of engagement: education, career, leadership, entrepreneurship and lifestyle. With more than 40 chapters, an 8,000-plus membership and more than 400 corporate partners, the NBMBAA gives its constituents access through programs and services such as the Annual NBMBAA Conference (the nation's largest, professional, African-American exposition of its kind), Local Empowerment Initiatives, etc. To learn more about the NBMBAA, please visit
www.nbmbaa.org
ABOUT THE NBMBAA TORONTO CHAPTER
The mission of the Toronto chapter is to increase the number of successful Blacks in Canadian businesses by providing innovative community programs that stimulate intellectual and economic growth; building partnerships with key stakeholders; and increasing awareness of and facilitating access to graduate management education programs and career opportunities. Membership is open to business professionals, entrepreneurs and students: Please visit
www.nbmbaa.ca
for more information.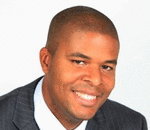 Posted By: Dante Lee
Thursday, August 28th 2008 at 8:00PM
You can also
click here to view all posts by this author...